It's about that time when we get to celebrate, appreciate and show our loved ones how much we love, care and is thinking about them but you're probably considering which way to go about it and gradually getting exhausted because planning a perfect date can be quite exhausting and very demanding. However, here are 8 tips to help find relief from the planning process and spice up your valentine's celebration this year.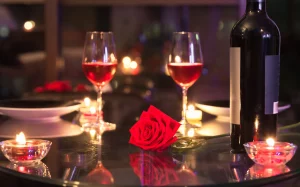 Spend quality time together
Valentine's day is a good day to spend more quality time together sharing past blissful memories, discussing your relationship journey and creating goals for your relationship. Take time to communicate your interests to each other and set goals together for your relationship going forward.
Create a playlist for each other.
You should spend time making playlists with your date this valentine's season to stream your favourite music. Select songs that would spark up memories of your love life or relationship, simply pour in some wine, turn on the music and reminisce.
Create a scrapbook.
Here's one of the very lovely ways to spend this valentine's. Put together cards exchanged and pictures of you both together from the past till the present and take a moment reminiscing about how far you both have come.
Watch a favourite movie.
Surely you can never go wrong with movies, seeing movies is a great way to spend your valentine and it. You may choose to either visit the cinema or see a movie indoors. Ensure that there's a pack of popcorn and your favourite drinks to accompany this.
Cook a meal together.
If your date finds cooking therapeutic, it could be a time to engage in cooking together. This could range from preparing a simple meal to preparing an elaborate meal. Cooking together provides you with an opportunity to bond with your partner by way of enjoying light banters, reminiscing about your first meeting, who prepares a better meal etc.
Attend a musical concert or a Karaoke show.
It's fun attending a musical evening with your partner or performing karaoke. This is a moment you both will forever cherish
Play games.
An interesting board game after a delightsome dinner would be fun. Get competitive with your partner at your favourite game.
Exchange heartfelt valentine's gifts.
I call this saving the best for the last. Exchange valuable long-term gifts which each of you will forever cherish.
Majorly, Valentine's celebration is about love and care. It's an excuse for people to do their PDAs in peace and of course rub it in the face of the singles, the usual way. In all, don't forget to get a single rose for your parents if you can. Or that boxed wristwatch your mother likes. Have a splendid valentine's celebration.