Fire razed large sections of the Monday Market in the early hours of Sunday, destroying much of the largest market in Maiduguri, Borno state. The cause of the fire was not known, but witnesses told The Punch that the fire started between 2:30 and 3:00 am.
Locals have already suggested the cause for the fire as political, which the Borno State Fire Service shrugged off.
Abubakar Isa, a dealer of second-hand clothes told newsmen tearfully,
"I lost everything in my five shops".
Abubakar Isa, a dealer of second-hand clothes tearfully, added,
"I cannot immediately estimate the cost of my losses, but I can tell you that it is over N30 million."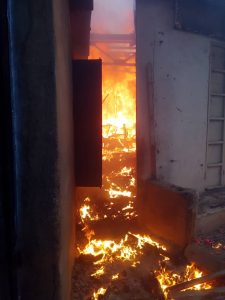 Musa Sulaiman had two shops for home decoration items such as rugs and suitcases. He said,
"the two shops were all razed down, and I lost everything."
He said this in a guttural tone, estimating the cost of his losses at "nothing less than N50 million."
Alhaji Modu Kijimi lost his two shops of empty sacks. He was too emotionally devastated to estimate the cost of his losses.