NDLEA operatives stationed at the NAHCO Import Warehouse of Lagos Airport intercepted eight boxes of shoes arriving from Los Angeles, USA. However, a careful examination of the shipment revealed that shoes had been used to conceal a total of 37 packets of the Loud variety of cannabis with a total weight of 20.10 kilograms. The 63-year-old grandfather, Balogun Akinrabbi Abideen, who was hired as a cargo agent handling illegal cargo has already been arrested.
Two other grandpas arrested in connection with drug trafficking are Butven Siman, 62, who was arrested February 17, at Timbol Village, Lantern South LGA, Plateau State, with a 5.5 kg skunk, as well as 65-year-old Musa Shuaib who was arrested with a kilogram of cannabis on 23rd Feb in Adewole area of Ilorin, the Kwara state capital.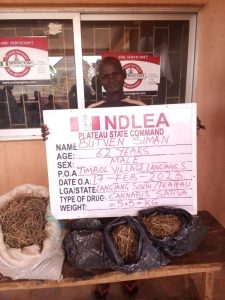 NDLEA Chairman/Chief Executive Officer, Brigadier General Mohamed Buba Marwa (Veteran) said the efforts of her compatriots across the country have reduced the access and availability of illegal drugs in Nigerian communities.