Nigerian actor, Chinedu Anichi urges fans to take a chill pill in reaction to death threats he has gotten. This is in reaction to the role he played in the movie, 'Dark October'. The movie, 'Dark October' which is Linda Ikeji's debut movie alludes to the event that led to the death of 4 university boys in October 2012. The boys were falsely accused and brutally murdered by an angry mob. This incident is now popularly known as the Aluu 4 Lynching.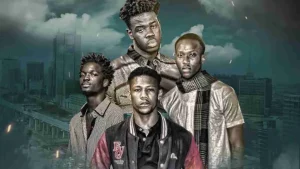 Anichi who played the role of the head vigilante in the movie has gotten threats from members of the public. He consequently took to his Instagram page to urge them not to judge him by the role he had played in the movie. Furthermore, he also stated that it was just a movie and his personality completely differs from the role played.
The actor however states further that he is open to opportunities to play religious roles. Chinedu Anichi stated that:
Nigerians! Be calming down nah….Na film I do ooo… All these people threatening to beat me, deal with me if they meet for street na somebody go take that role nah…Abeg if you see Bishop Rev father, Pastor, Imam etc role give me, I go still run am…
Moreover, the reactions from the public tell what a great actor Anichi is. The actor absolutely killed his role!
On my end though, I am looking forward to seeing him take on other roles in the coming years. Do you also think Anichi is a great actor? Would you be looking forward to seeing him featured in other Nollywood movies?
Let me know what you think in the comment section.