Da Les,  friend and colleague of South African rapper, Kiernan Forbes has taken to his
tweeter handle
to announce the news of his friend's passing after he was shot on Friday night. The award-winning South African Rapper Kiernan
Jarryd Forbes fondly referred to as AKA has been declared dead after being shot in front of a restaurant in Durban, on Friday, February 10.
The rapper was reported to have flown into Durban from Johannesburg for his birthday party being organised at Yugo Nightclub when the sad event occurred.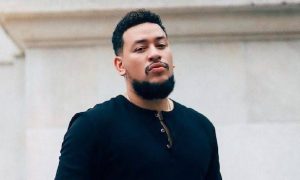 Earlier, he had announced his birthday celebration on his social media pages urging fans to show up. While with some friends and his bodyguard, AKA was reported to have posted his location on his IG page. After a meal at the restaurant, he had stepped outside shortly after 10 pm. It was at this time that the unfortunate incident occurred.
Some claimed the rapper had been shot 6 times by someone who walked up to him. While others reported that it was a drive-by shooting. This incident has also gotten a friend who was standing next to him killed and his bodyguard severely injured.
Our hearts go out to the friends and family of AKA. We pray that they find strength and comfort in this difficult time.