Tips for getting the best wedding cake
How to enjoy your cake
These wedding cake tips will come in handy
Wedding cakes can be a real hassle for some brides. They stress over the right baker, the right height, the flavour and even preserving the cake. This is understandable because wedding cakes are meant to bring charm and colour to the ceremony and it should really be done right. However, worrying is the not the solution and it's not necessary because with the right information, you can give yourself peace with your wedding cake.
Here are some practical tips that will really help:
Your wedding cake decision should be guided by other important decisions
If you want everything about your big day to be coordinated, you should have settled basic style decisions concerning your wedding before making your choice on wedding cake. So pick your venue, your flower arrangements, your menu, cutlery and even your wedding gown before coming to a decision about your cake style.
When you know what you're going for in terms of your overall wedding style, it becomes easier to choose a cake design that fits into everything. You can bring a picture of the major style decisions you've made to inspire your baker on how to design your cake.
Consider your space when choosing cake height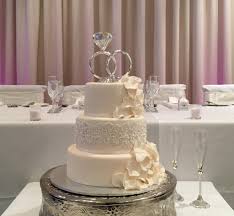 If you're using a big space with high ceiling for your wedding reception, a tall cake will be a really nice choice but if you're using a cosy and relatively small space, a cake with so many tiers may not be the best. Let your cake fit your space.
Consider the weather
You need to think about the weather in the period you're getting married before making a choice on what time of cake you want. If you're having your wedding in a hot climate, you know you can't use icing or covering that melts easily (e.g. buttercream or whipped cream).
Consult your baker and work with something that will hold up to the weather of the season.
Have a solid delivery arrangement
Some cakes are not going to be delivered in their complete form but will be assembled at the venue; make sure you factor that time in. Cake delivery generally requires coordination so you need to make an arrangement that allows it arrive without stress and in good time.
Get yourself a baker that has a solid delivery arrangement and is excellent at it. Discuss with your baker to make the most convenient plan. Make sure you have someone who will monitor the delivery on your wedding day to make sure it arrives in good time.
Plan for miscellaneous spending
You make need to make some extra and unplanned spending for like extra decorations or unplanned delivery costs. Try to make a budget for extra costs
Enjoy your cake while it lasts
Some couple (brides mostly) look to save their wedding cakes until their first wedding anniversary when they can enjoy it for the celebration. However, this is a hard thing because no matter how well your wrap or package it, it may fall prey to freezer burn. If you want to go this route, make sure you wrap it very tight in a plastic bag or container. Another thing that may affect you cake, in Nigeria, is erratic power supply. You just need to factor these things into your expectations.
Instead of worrying about saving it for that long, you can enjoy your cake for the few weeks or months when it still tastes great. You can easily make another special cake for your anniversary when the time comes.