Ahmed Ololade Asake, widely known as just, Asake a fast-rising artiste in Nigeria signed to the YBNL record label released his debut album "MR MONEY WITH THE VIBE" on the 7th of September 2022. An album which went on to break multiple records in the music industry home and abroad. The MMWTV album was not far from the top of many music charts from the time of its release and in fact dominated the first twelve spots on Apple music   Top 100 chart for weeks on end, the first ever debut album to achieve such feat.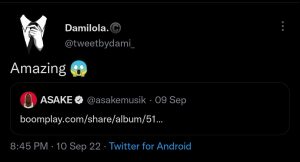 Fans and critics alike have been singing the praises of the album since its release and finding any slander directed at it would be equaling the effort of finding a needle in a field. The album houses many hit songs from the prominent artiste such as "Sungba", "Palazzo" and many more.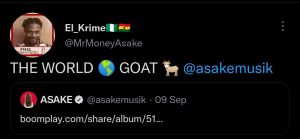 Asake's "Mr money with the Vibe", has speedily gained the favourite spot with most people and already has a solid fan base. Being, of course, a favourite of the people, here are a few things people have to say about the MMWTV album.
As it always is, you would agree that it's impossible to please everybody at the same time, or should we say in this case, make music to everybody's taste. As widely enjoyed as the album was, not everybody has something pleasant to say about it.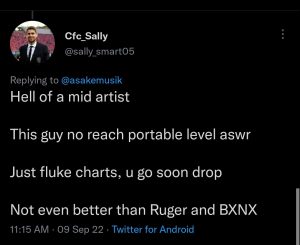 This particular critic aired his opinion on the album being that it was mid and also predicted a decline for the fast-rising star. He even went on to comparing Him with his peers BXNX and Ruger saying they were much better artistes than he was. His comment is shown below.