Finding any sort of slander directed at the fruit called watermelon would be like finding a needle in a haystack. I mean it's pretty hard to find something that tastes as incredible as it does, and even better, supplies your body with far more than a handful of nutrients. It gets better; every part of the watermelon is edible; you might be thinking including the hardback and the seed. Yes, every part. Let's get down to why watermelon should be part of our diet.
HYDRATION AND SOOTHING OF SORE MUSCLES
After your morning workout and you are feeling all tired and really thirsty and water, as much good as it would do, is tasteless and won't cut it for you. No, do not pick up that soda can. Watermelons are just the thing for you it's made up of 90% water so, they're a perfect substitute for water itself plus it tastes great!  It also contains vitamin B and electrolytes that help replenish nutrients lost in sweat. Talk about an energy drink from mother nature.
IMPORTANT FOR A GLOWING SKIN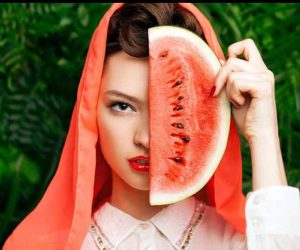 Although nature would surely take its course and there's no magic trick or food on earth to turn an old person's skin into a baby's, watermelons contain nutrients that aid healthy skin.  It contains a generous amount of vitamin C which helps your body produce collagen (an antioxidant that provides skin support and structure). Let's just say eating watermelons every week should be part of your skincare routine.
BOOSTS IMMUNE SYSTEM
Without a doubt, nobody would like to fall sick. Good news is watermelon contains 8% of the daily recommended intake of Vitamin A and 25% of your daily recommended intake of Vitamin C nutrients that are essential in strengthening your immune system by enhancing immune cell function.
MAKES FOR A HEALTHY HEART
Lycopene and L-citrulline substance that helps regulate blood pressure, by boosting nitric oxide levels in the body, relaxing blood vessels, are a component of watermelons. So yes, eating watermelons makes for a very healthy heart.
SOURCE OF MAGNESIUM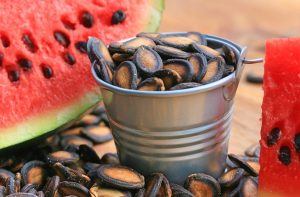 Magnesium is an essential nutrient the body uses for metabolism. Watermelon seeds are a very good source for this essential nutrient. What's not to love about the watermelon?!
SOURCE OF FIBER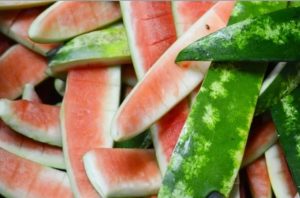 The fiber in the body does far more than make you less hungry. Adequate fiber in the body also makes for regularity and consistency in bowel movement and also aids digestion. The bark of watermelons is a great source of fiber, another reason to add it to your diet is fiber helps in the reduction of cholesterol levels in the body and also prevents heart attack.
All these and more are reasons enough not to skimp on the watermelons when drawing your diet plan. A weekly intake of watermelons would do your body a whole world of good.