The watermelon is a unique kind of berry comprising of the hard outer rind and the inner juicy pink/red/yellowish pulp. Famous for its sweetness which is why it's not hard to spot the watermelon on most menus as the option for fruits or desserts. Perhaps you might be wondering what fruits you could combine with your watermelon for that special flavor you seek or which fruits could complement your watermelon then you definitely shouldn't stop reading at this point.
MANGOES
Mangoes, highly nutritious fruits and sure immune boosters due to the generous amount of beta-carotene. This, combined with all the nutrients the watermelon has, would make for a really nice healthy treat. Feeling a little adventurous and don't want to just dice them up? Blend both the fruits add a bit of honey or milk and you've got yourself a mind-blowing mango-watermelon smoothie.
GRAPES
Grapes, great on their own, are totally incredible with watermelons! The slightly sharper flavor of the grapes complements that of the watermelons. A combination of their juices and you would be in for a really nice treat.
STRAWBERRIES
A blend of strawberries, yoghurt and watermelon slices is sure for putting you out of bad mood. And added benefit of adding strawberries to your watermelons is the much needed iodine and phytochemicals you would be getting from them, which aid the smooth running of your brain and nervous system in general.
BANANAS
Thinking of a creamy and sweet combination?, Nothing says that more than a banana and water melon combination. Throw in a bit of milk and you've unlocked refreshing heaven. The banana and watermelon combination is perfect for improving digestion. Having trouble after an heavy meal?, Be sure to pick up that banana-watermelon smoothie.
PINEAPPLES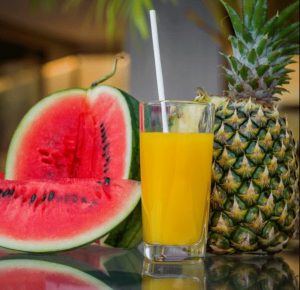 If you are needing a drink that is both healthy and doesn't need any added sugar or sweeteners,the pineapple-watermelon combo is just for you. The pineapple also makes for a nice complement for the watermelon to make up for the sweetness with a little sour flavour in the mix.
PAWPAWS
Aside from its great taste, the vitamin k in pawpaw makes it an excellent option for your watermelon combo. Vitamin k is essential in building up bone health. Study has shown people who consume more of vitamin k have lower risks of bone fractures.
Guess What?
If you are indecisive about which one of this fruits to pick. You'll be pleased to know there is absolutely no issue with adding them all together either as a salad or as a multi flavoured drink or smoothie.
Other equally wonderful fruits to pair with your watermelons includes;
cherries, blueberries, raspberries, tomato, blackberry, peaches, lemon, limes, chili, plums, cantaloupe, honeydew melon, orange, pomegranate, jalapeno, arugula, ginger, avocado, coconut, apple, snap peas, spinach, red grapes, green grapes, pears, grapefruit, lettuce, corn, and rhubarb.