Finding the right blend of formal interview-worthy articles of clothing that makes you feel feminine can be a chore sometimes. As a job seeker generally, it's important to be prepared for potential interviews. Whether you're applying for the role of a CEO or just writing a cover letter, one thing is clear: you need to look your best if you want to get hired. But getting that perfect mix that is professional without being boring can be quite tedious. While there are many different types of clothes that can make an amazing impression on your interviewer, you also want to feel good and confident. Here are several clothing articles that will speak volumes about your personality and professionalism while giving you a confidence boost.
The Coat dress.
A Coat dress is a good option for an interview. It can be dressed up or down depending on the occasion, and it's versatile enough that you can wear it with any kind of top you like: blouse, turtleneck, sweater—you name it!
If you're going for a more formal look in your interview attire, try pairing this up with a black or white top or a turtle neck inside instead of just wearing it as it is. It gives the 'formal interview clothing' vibe you need and gives you a feminine boost of confidence in your appearance. 
The shift dress and jacket combo.
The shift dress and jacket combo is a versatile option that works well for job interviews. It's an easy look to wear and be comfortable in.  If you're going for an interview in an office environment, you might want to keep your jacket on. If however it's after work and you want something more casual, then remove your jacket when leaving the building.
The most important thing about this outfit is that it should be comfortable—the last thing anyone wants is discomfort at their first formal event! So make sure that whatever type of material was used in making these pieces was breathable so you won't feel too hot.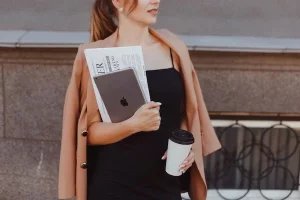 A sheath dress.
A sheath dress is a simple, elegant style that can be worn on its own or with a jacket and accessories. The advantage of wearing a sheath dress is that it's comfortable and easy to wear. You may not have time to strike up a conversation at the start of an interview, but you shouldn't look like you're rushing out of there either.
Be careful not to use this for high-level position interviews as it could be seen as disrespectful.
A classic pantsuit.
If you're nervous about what to wear for an interview, a pantsuit is a great option. It can be dressed up or down depending on the accessory, and it's good for those who aren't sure what to wear. 
This style works well in case you aren't sure what colours to choose or how much jewelry to add. For really formal events though, we recommend choosing something more casual. It is also a sure way to maintain formal interview-worthy clothing that makes you feel feminine without breaking the bank.
A classic black pencil skirt paired with a white blouse is an easy way to ensure that you look professional while still feeling comfortable—and it looks just as good with heels as flats.
A flirty dress
The flirty dress is a great choice for a casual interview but not a job interview. It's short and fitted at the top, with a feminine shape that flares out at the bottom. The skirt should be slimming and in a solid colour or have subtle patterning (like stripes). It is a near-perfect way of dressing up in a formal interview way while remaining feminine.
When you're dressing to impress, it's important to make sure that your outfit is appropriate. You don't want to make yourself look unprofessional by wearing something that doesn't match the job or interview setting. It's also important to pay attention to details like colour coordination and matching accessories so that everything comes together nicely.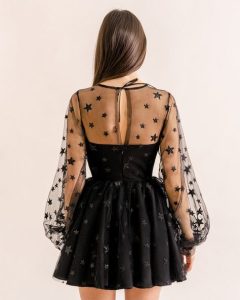 If you aren't sure what kind of dressing is right for a position, be sure to make proper research. You can mix up a wide variety of clothing. From classic black suit jackets paired with red dresses to navy blue suits paired with mint green dresses and even white blouses under colourful sweaters. There are so many different ways to dress up that can get you in the mood for your interview!
We hope this post has been helpful in helping you figure out what style you'd like to try. It can be stressful, but with the right amount of confidence and preparation, you can ace your interview!