You mention fries or pasta and ketchup is not too far from your mind. ketchup is a very popular table condiment. Although early American recipes included components like egg whites, mushrooms, oysters, grapes, mussels, or walnuts for the term "ketchup," as it was originally used, now, it most often refers to tomato ketchup. There are a lot of ups to making your ketchup; first, you could experiment with the flavor, and yup, you look cool when friends come over and you can tell them you did create your ketchup. So, let's walk through the surprisingly easy steps to creating your own ketchup from scratch
WHAT DO I NEED?
The ingredients are basic vegetables and spices that are readily available at local stores or markets. They are:
2 tablespoons olive oil
1 medium onion, chopped
1 clove garlic, minced
1 (28-ounce) can of tomato purée
1/2 cup packed dark brown sugar
1/4 cup cider vinegar
1 tablespoon tomato paste
1/2 teaspoon salt
1/2 teaspoon ground mustard (optional)
1/8 teaspoon ground cloves
1/8 teaspoon allspice (optional)
1/8 teaspoon cayenne or chili pepper (optional)
WHAT NEXT?
In a medium saucepan, heat the oil until it shimmers. Add the onion and simmer, stirring occasionally, for 5 to 8 minutes, or until tender but not browned. Stir the garlic for 30 seconds or so, until fragrant. Stir in the tomato paste, salt, mustard, cloves, allspice, and cayenne pepper after adding the tomato purée. Stirring occasionally, simmer for 45 to 60 minutes, or until thickened to the consistency of ketchup. Bring to a boil.
Then pour it into your regular blender and blend until smooth. But not too smooth. You wouldn't want your ketchup to be runny.
Note- be extra careful when blending hot ingredients, you might want to do this in batches so hot liquid doesn't spill on you.
Then with a tiny holed filter or sieve, filter your ketchup so a kind of shaft is removed. Make use of a spatula to turn the ketchup in the sieve so it gets along easier.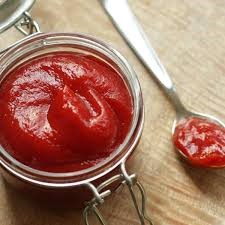 YOUR KETCHUP IS READY!
So all you need is a jar to store your ketchup. After cooling transfer to a jar or small container or jar and refrigerate. Your ketchup can last up to a month when it's refrigerated.
I'll leave you to get to it then. You can adjust seasoning and add other flavours or spices to your taste.