Tiwa Savage, the Nigerian queen of R&B as she is popularly referred to, has been the target of many not-too-kind remarks and a few positive ones, following the release of her latest single "Koo Koo Fun" which featured Major Lazer and renowned DJs; the likes of Major League DJz and DJ Maphorisa.
The genre of the song was in line with the Amapiano wave currently washing over the Nigerian music industry. Several artistes such as Zinoleesky, Reekardo Banks, Niniola, Asake, Davido and even The biggest bird Wizkid in his latest single "Bad to me" have been playing and experimenting on the sound without any hiccups. The R&B Queen's attempt at trying out the sound however did not sit too well with majority of her audience, even though a few would still assert that it is, in fact, an A-list track. Her social media has been receiving various varieties of criticisms which might make one wonder why a supposed professional is coming under such heavy criticism. Perhaps a listen or re-listen to the song might answer your question and you would make your decision. Here are a few things people had to say about the queen of R&B's  latest single "koo Koo Fun":
This particular person who although did not share her thoughts on the song decided it worthwhile to declare her unwavering fandom.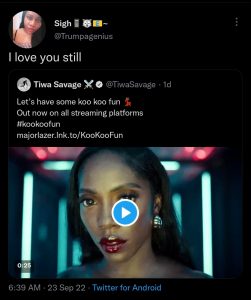 This particular person however obviously did not fancy the song at all and made it very clear with his choice of words. Making sure to warn Tiwa Savage "never to try it again".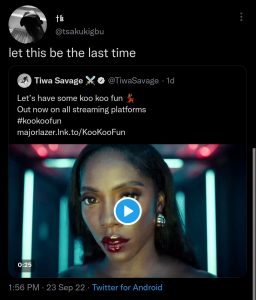 This particular critic even went as far as making sure to report Tiwa savage's Twitter account because he did not find the song pleasing to his ears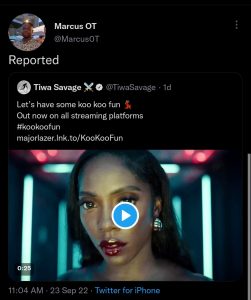 Not everybody would agree with those critics who had nothing good to say and made sure to make their thoughts know through their comments. Perhaps music taste is a personal thing and is unique to every individual.
These people had the following to say.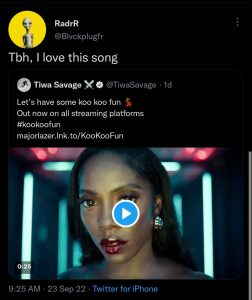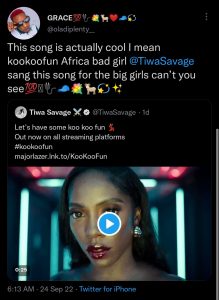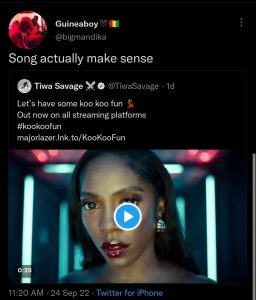 So, there we have it, perhaps the song is not really as bad as certain people have made it out to be. Only one way to find out. The song is available on all streaming platforms. Do well to listen to it.