Often times, a nice spitting contest breaks out whilst enjoying a nice meal of watermelon, or we get so bugged with having to pick out the seeds before serving it. Most people just opt for the seedless variant all together. Well, if you fall in any of the categories of people who do away with their watermelon seeds without a single thought, haven't you been making a big mistake?.You can call the seeds a blessing in disguise from dear old Mother Nature. Apart from planting them, people fail to see any other use for the seeds, "why bother when they are so annoying anyway?" You might be thinking. In this article you'll see really good reasons why you should not throw away your precious watermelon seeds.
HELPS TO STRENGTHEN YOUR HAIR.
You would agree your hair is a very important part of your look and everyone would definitely want to have nice healthy hair. Watermelon seeds are just the thing if you're looking to improve your hair health as it contains magnesium, zinc and copper, minerals known to play crucial roles in improving hair quality. The magnesium helps to reduce hair breakage and falling out.
HELPS TO REDUCE BLOOD SUGAR LEVELS
If you are worried about regulation or reducing your blood sugar levels, then you would definitely want to add watermelon seeds to you list of snacks. Watermelon seeds helps to control the way your body processes carbohydrates which impacts blood sugar levels. The seeds are also wonderful for the treatment of type 2 diabetes.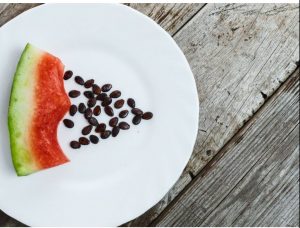 BONE HEALTH.
Minerals such as iron, zinc, copper and potassium coupled with micronutrients are abundant in watermelon seeds. The minerals make for healthier bones and reduces risks of bone fractures. Those minerals increase the density of the bone thereby making it insusceptible to bone related illnesses and diseases.
IMPROVES SKIN HEALTH
Watermelon seeds also contain nice helpings of vitamin C and antioxidants that helps you get rid of acne, rashes and early signs of ageing. Adding watermelon seeds to your diet would definitely help you in achieving that smooth supple glowing skin you want.
BOOST IMMUNITY
The generous amount of assorted vitamins and minerals contained in watermelon seeds are great immune boosters. So, either you're cooking the seeds or eating them whole with your water melon slices, you are doing your immune system a whole world of good.
BUILDS HEALTHY HEARTS
Watermelon seeds are very good friends of your heart. They contain monosaturated and polysaturated fatty acids. Don't be alarmed these fats are good for your heart, they help to prevent heart attacks and also stroke. The magnesium content in watermelon seeds also contributes to the regulation and control of your blood pressure reliving your body of any unnecessary extra stress.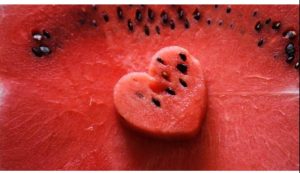 These and more are extra reasons to avoid the mess of picking up watermelon seeds or the trouble of having pick out the seeds before you enjoy the fruit. So have it in mind when you pick up your watermelons next time, the seeds are not your enemies, they are your friends.